Technology
Here are a few of the ways Zales Macro Accounting works with your technology:
Technology for Decision Making
Through Zales Macro Management Services, small and independent operators can take advantage of the technology that was previously only available to large operations. We have worked with several POS system software providers such as Oracle and have an intimate working knowledge that allows us to give recommendations on the best fit for our clients. We provide full integration with systems such as QuickBooks, allowing you to keep track of your businesses expenses at a glance.
Zales Macro polls our clients' POS machines electronically and processes the data we capture to produce custom sales and labor reports on a weekly and period basis. Then we help you analyze the data and make decisions based on the information collected by your POS system. This data allows your operation to become more cost-efficient and your decisions in regards to the health of your business to be based on fact. It also allows you to focus on running your business instead of crunching numbers!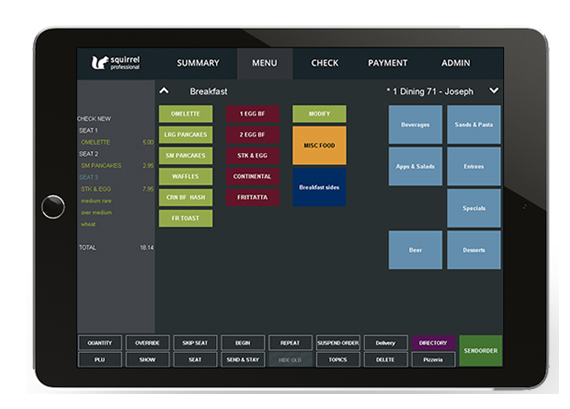 Technology for Existing Operations
We've seen businesses struggle with the equipment they can't really afford and information they don't understand. Call us before it's too late!
Typical reports we make available to clients include (1) a cash report, (2) a weekly sales report, (3) a weekly corporate cost report that shows a cost breakdown for sales and labor, and (4) a financial operating statement by accounting period. Beyond these basic reports, we can build a report for your operation that customizes the data you want to focus on and excludes information that is irrelevant!
Technology for New Hires
We have recently partnered with UKG, formerly Ultimate Software and Kronos, in order to provide our clients with the full suite of payroll, human resources, and TLM services.
Zales Macro Accounting has been processing payroll for small businesses for more than three decades. Our partnership with UKG makes payroll, processing new hires, and tracking employees easy! Let us use our expertise to run payroll for your small business and allow you to focus on the training of your new employee, not the paperwork! You will appreciate our attention to detail and the ease in which integrating your new hire into your system will be.
Technology Choices for Your Back Office
Zales Macro announced a relationship with Restaurant365 to offer the latest technology available in restaurant-specific accounting. Data flows from your Point of Sale (POS) system to your general ledger with maximum efficiency and clients who use it love Restaurant365's reporting features.
Inventory maintenance, invoice coding, and bank reconciliation activities that used to eat up hours of clerical time are streamlined procedures with multiple layers of "drill down" available at the click of a mouse.
If you think your operation could benefit from this exceptional software but you are reluctant to train your employees on yet another system, let Macro utilize Restaurant365 to keep your books and prepare your financials.
Zales Macro Management Services + Restaurant365 = Value. Accuracy. Results.